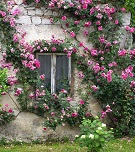 Medium
Relatie inzicht
Coach
1 credit p.m.
Medium Roos
I am a Dutch naturalborn Clairvoyant and Psychic and throughout my whole life I have had to deal with situations where people needed my skills to read and deeply feel what is going on on the inside of themselves or their beloved ones.
Thus I have learned to be non-judgemental, open and honest in my answers and translating the messages which I receive from the spiritual world for over 25 years now.
I am an Empath and I can feel within mere seconds the true feelings and real needs of you or your beloved ones. This is a great help when it comes to dealing with problems in relational problems and friendship.
Also, I see and communicate with our deceased ones and I translate their messages as they are dependent on us Psychics to bring over their message.
I do very much like to help with all those important issues such as love, relationship, career, finding out your emotionel obstacles, your talents and also the things you find difficult to put your finger on but ofcause you want to look deeper into the real mening of life.
Always my aim is to try and make one see the essence of problems, the lessons that come with it and encourage one to carry on, with renewed insights,
I am a here to help you as I am a channel for a much greater sacred energy and my personal beliefs don't play a role in any way as I open mayself to the messages I receive and a great listener and will allow you the time you need to express your feelings about your circumstances.
Believe me we are master of our own lives and let my help you to sort out which way you can solve your problems relieve your pain and become fully in control of you own happiness.
Experiences (1):
---
Nadia:
Roos is een aangename damen om mee te praten, ze typt snel, ze stel jou gerust. Thanks
---
Share your experience with Medium Roos!
Back